Tuesday's Workout – Competition
For Time:
1 Mile Run
20 Power Cleans (185/125)
30 Strict HSPU
40 Cal AB
Wednesday's Workout – Practice
For Quality:
30 (2 count) Plank Taps w/Downdog Push Back
30 Pull ups
30 Power snatch
800m Run
20 Push Up
20 Chest to bar
20 OHS
400m Run
10 HSPU
10 Bar muscle up/ jumping BMU
10 Snatch
200m Run
By now you've heard us coaches talk about 'Movement and Work Capacity' multiple times, but are you really paying attention? You should be!
If you're looking to improve your overall quality of life or fitness level, then you really should learn what it means to have superb movement capacity.
Movement capacity refers to human movement, i.e., the Simple 7:
Squat
Hinge
Push
Pull
Flex/Extend
Twist/Rotate
Run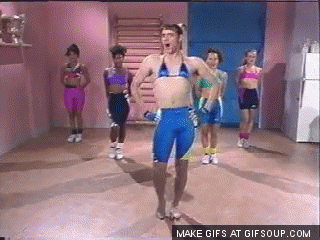 As humans, we want to be as balanced as possible in the Simple 7 in order to express our full potential. If we lack range of motion (MOBILITY), our work capacity will be limited.
Don't be alarmed, as you can improve your movement capacity and mobility every single time you walk into the gym! SHOW UP AND DO THE DAMN THING!!
But here's the point I'm really trying to make…SCALE TO YOUR MOVEMENT CAPACITY!! The reason being, "workouts are scaled to preserve the intended stimuli despite athlete limitations such as experience, injury, illness or range of motion. A properly scaled workout safely maximizes relative intensity (load, speed, range of motion) to continue developing increased work capacity despite limitations. A long-term goal of scaling is creating the ability to perform workouts "as prescribed."
What you just read was, you must have PATIENCE young grass hopper. Oh, and ASK A COACH for help! Use your words. We're all here to help you become the best version of yourself.
IMPROVING YOUR MOVEMENT CAPACITY WILL IMPROVE YOUR WORK CAPACITY!